EZBILLING360 Lifetime Deal
Quick Overview
Get automated monthly invoicing for super easy payments
Alternative to: FreshBooks
Use time tracking to record working hours and bill automatically, plus a dashboard to monitor sales and accounts in real-time
Best for: Finance teams, accounting departments, and freelancers looking to use one tool to handle all of their invoicing needs
EZBILLING360 is automated billing software that provides you with easy to manage the billing process. It is an automated billing system that, along with time tracking, assists you in making your invoices and monitoring sales. This system helps you manage and contemplate your work by scoring done on the first client to discounts that you offer your regular clients and your new jobs.
With EZBILLING360, you can easily handle your working hours, calculating totals, and creating invoices for your clients swiftly. With this, you can easily track your hard work turn into hard cash.
Introduction to EZBILLING360
This automated billing software has been developed to aid small business owners and freelancers in keeping track of their work. EZBILLING360 is an automated billing system that aids you to focus your business. It helps an entrepreneur by acting as their accountant by adding up the monthly bill and sending invoices to them efficiently, making the entire billing process pain-free for you.
EZBILLING360 is the best-automated billing software for your business a sit lets to keep an eye on every move you make. It is an automated billing system that assists you in working for your business.
Moreover, you get an integrated ticket system for your client to ease you in communicating with your clients. It helps you to be updated about your business. This automated billing software has multiple functionalities that will help you build a path of success for you and your business.
Functionalities of EZBILLING360
1. Simple and quick invoicing
With an automated billing system, the whole laborious task of invoicing is taken by software. It turns the entire process into a simple task and quickly adds up all the accounts at the end of the month.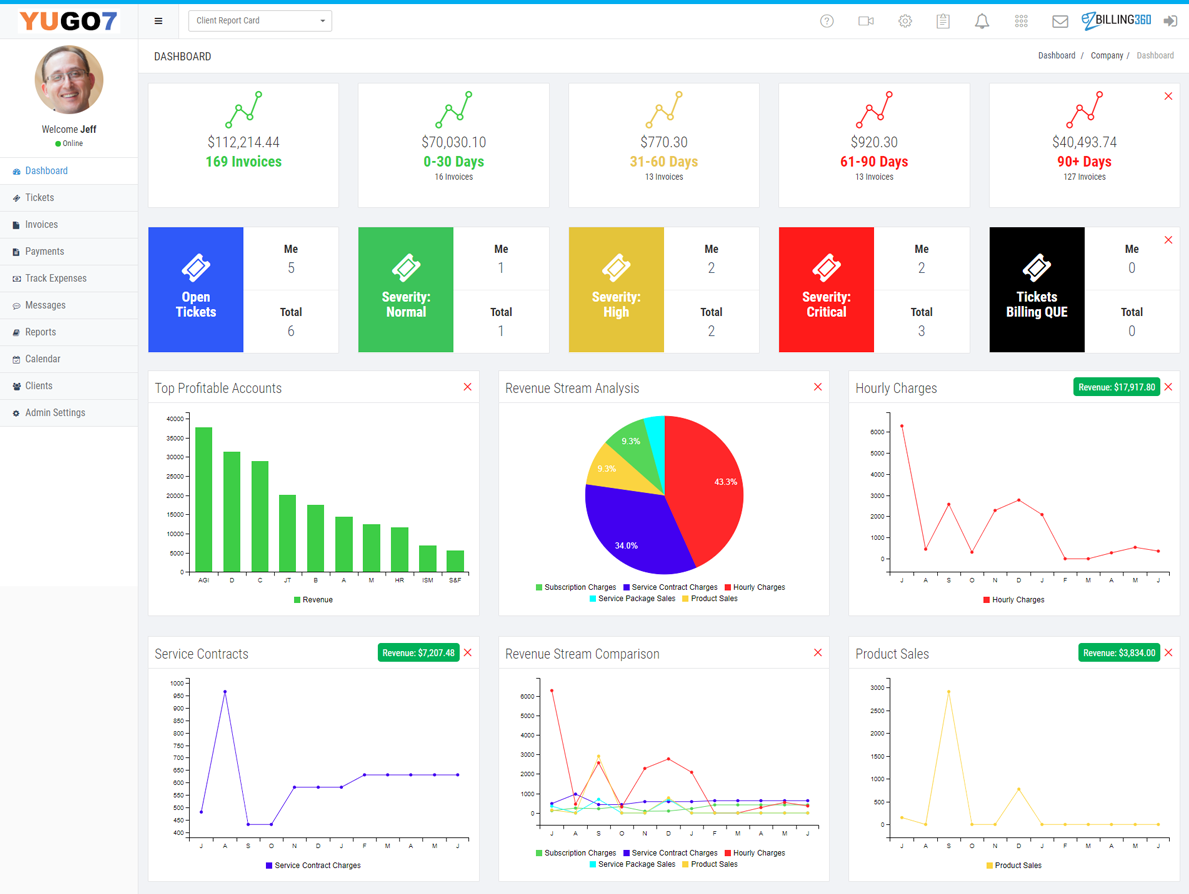 2. Ticket Making
With automated billing software, you get to make tickets that will keep you aware of the communications that you require doing with the client. It assists you in gaining knowledge about the client's specific requirements.
3. Reports build-up
EZBILLING360 helps you to track your performance throughout the month by providing you with graphs. It gives you valuable insights as if the client has looked into the invoice or not.
4. Enhancing getting paid process
You are not required to chase clients, as it notifies all your clients about the payments through invoices. It also takes follow-ups on your behalf and asks them a penalty late fee if you ask it to do it for you.
5. Painless tracking
EZBILLING360 helps to keep an eye on all spending. It organizes the data for you, along with all receipts. Tracking your expenses becomes easy with it.
Conclusion
Billing can be a daunting process for a solopreneur, small business owner, and freelancer. Being a single person can be challenging to handle all the clients as you are only one that needs to act as a billing department, technical department, PR department for your business. For assisting you in seamless working, EZBILLING360, an automated billing software, that will help you in getting all process done for you and you will be able to focus on your core business.
Visit Deal
Easy billing

Automated monthly payment invoices

Faster Payments

Simple and quick invoicing

Easy Time tracking tool

Easy recording of working hours

Sales and accounts monitoring

Realtime monitoring with dashboard

One-stop tool for small businesses, freelancers, and solopreneurs

Instant invoice transfer

Automatic monthly invoices

Notifies whether your client has opened the invoice or not

Performance tracking along with a graph

Easy tracking of performance (income)

Track your strengths and lackings

Monitor communications with clients

Easy to manage

Ticketing becomes easy

Scheduling becomes perfect

Multiple billable clients